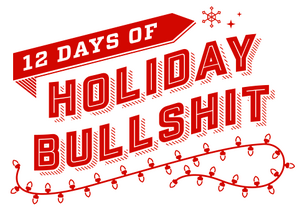 Welcome to the CAH Holiday Bullshit Wiki
Edit
For organizing our puzzle-solving.
Cleaning Up This Bullshit
Edit
/r/holidaybullshit is kind of chaotic at the moment.  No one really seems to know what we actually know in spite of the fact that there seems to be another thread trying to summarize it every day.  I propose that we keep discussing it there, but we post things here to keep it all organized.
List of Theories
Edit
Current theories people have on the puzzle click here.
Links to Stickied Threads on /r/holidaybullshit
Edit
/r/holidaybullshit stickied summary thread #1
/r/holidaybullshit stickied summary thread #2
Pages on this Wiki
Edit
Let's keep a list of the most important pages on this wiki. Presumably, a link to each day and one to a primary theories page would be a good start.
Update: These are now also available as drop-down menus under 'Important Links' at the top of the wiki.
Latest activity
Edit
Photos and videos are a great way to add visuals to your wiki. Find videos about your topic by exploring Wikia's Video Library.